Latest Subscription Videos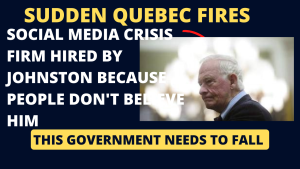 Canada Politics
or Trudeau and Johnston scrambling, Johnston hires a crisis
Read More »
What is CanadaPoli.com About, Anyway?
This site is for showcasing my daily 1 hour long show dedicated to talking about Canadian Politics. To access the hour long show you need a subscription which you can buy below.
I look at the cast of characters in "leadership" across Canada and point out the conflicting comments or policies. I showcase stories focused on Canada from a Canadian point of view. 
When reporting on the news I try to use common sense to assess what's going on rather than be influenced by what other people think.  Then I tell you what I think is going on and why I think it. I also provide all the links to the stories I'm sharing. I throw in 1 or 2 too many Star Trek references than is probably advisable. (The ideal number of course being 0, but I canna do that, Captain!).  
I try to be a bit funny. I hope you like the show. 
Thanks for visiting! This is the home of the best daily Canadian Talk Show out there! I put time in sifting through stories so you don't have to!
Click the button to read some reviews of the show right on this page!
Buy A Subscription Below!
Read Reviews and Review the Show Yourself!
Long time listener
Hi mark, I've been listening to your show from the beginning and up until 2020 I didn't agree with a lot of things you spoke of but still enjoyed your show. Then, in 2020 I watched your mindset change and the shift in your perspective as you started noticing the things you speak of today. My only issue is that I can only get half the show these days but I get why and I will continue to be a loyal listener. Keep fighting the good fight
Great Show!
Thanks for much for keeping Canadians like me informed about what is happening. I really appreciate all the work and time you put each show. You are making a difference. We need people like you.
Great Job
thanks for all the time you put into this podcast. I appreciate your opinion on some many different topics. As you say, I also hope you are wrong but I don't think you are.
My go to
Awesome show. My husband and I listen every day. Thanks for all the work you do Mark!
For G_d Sakes Mark
It is Sow like Row, not Sow like Cow.
Sow like Bro.
Sow like Whoa!!
The daily place to go for Canadians
You don't have to watch this guy in his garage everyday. I find a way to listen and it's become a part of my day. Keep up here.
A worthy daily surgery on Canadian political faux pas
Mark dissects the news on Canadian politics & our leaders' blunders. Sometimes too much Ontario stuff – hey! We got issues in the West, too!!!! For 17 cents a day, I get 100 buckaroonies worth of common sense with some smirks added. Worth every non-existent penny.
Best Canadian Political commentary
I don't know how long I've been following Mark, since the days where he was just a voice.He goes through the gauntlet in a mature fair measured way.I rarely disagree and I like Mark think that our direction in Canada should be dictated by right over wrong not as a team sport.Thank you Mark for your dedication, you are one of the good guys.